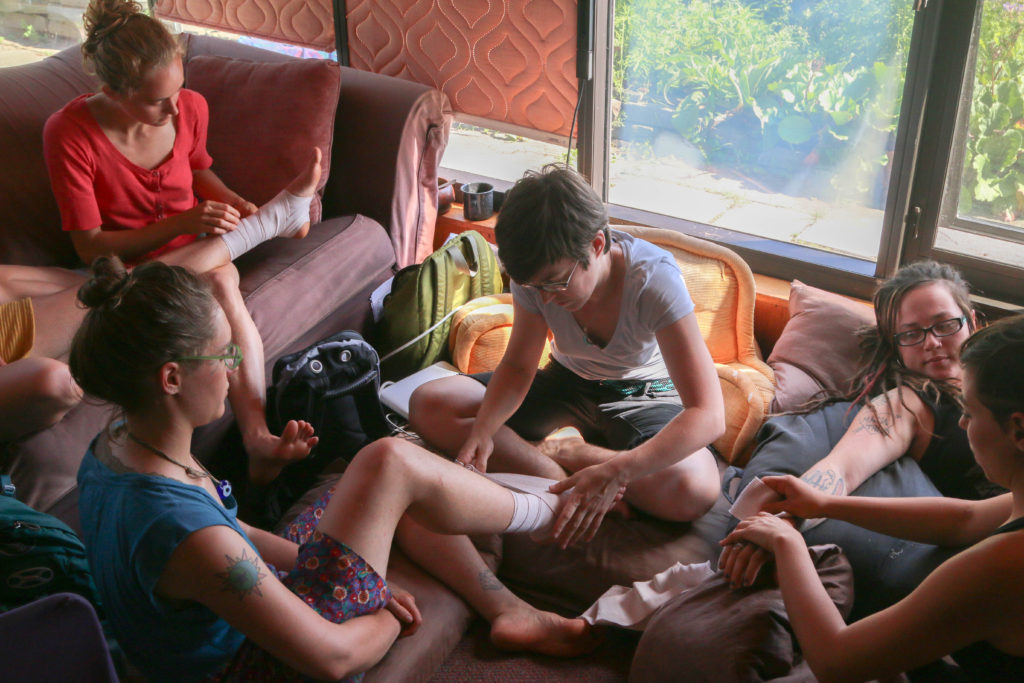 Anatomy and Physiology These classes cover the major human body systems and how herbs influence them. For students uninitiated in basic anatomy and physiology, some basic studies before classes begin are helpful.
Business Practicum How to make a livelihood using your skills and knowledge of the plants. Suggestions will be presented on how to develop your herbal business acumen and ways to continue after this program.
Certificate A handsome certificate will be awarded to students who have successfully completed the programs and their requirements.
Clinical Evaluation/Diagnostic Skills A focus of this program is to train students in the skill of clinical herbalism. This is used to discern an individual's constitution and personal health needs. This class incorporates a variety of diagnostic techniques including client intake, Traditional Chinese Medicine, Eclectic medicine, Ayurveda, an understanding of conventional (modern) tests, pulse taking, tongue diagnosis, and understanding other clues and symptoms to develop a comprehensive holistic picture of a client's health.
Counseling Skills Counseling skills are an important aspect of practicing as a clinical herbalist. Listening skills, understanding patient compliance, and deciphering clients' needs are some of the concepts taught here.
Field Trips There are three types of field trips. The first are hikes through the local environments around Ithaca. The next are two extended field trips in which we travel as a group for eight days, initially setting up a base camp and then exploring the surrounding area. These trips include visiting Southern Ohio and the Adirondacks. The third is the Rainbow Gathering. On these expeditions we hone our skills in plant identification, wildcrafting and medicine making.
First Aid/Emergency Medicine These classes focus on the practical application of herbal medicines and other therapeutic approaches to treat a number of first aid happenstances, including burns, pain, rashes, infection, diarrhea, wounds and bites. Discussion also involves the causes of these dilemmas and how they disrupt our normal physiological state. Treatment protocols are based on many years working at first aid stations and using herbal remedies at these events. We will learn to design and prepare first aid bags for home, street and wilderness first aid situations.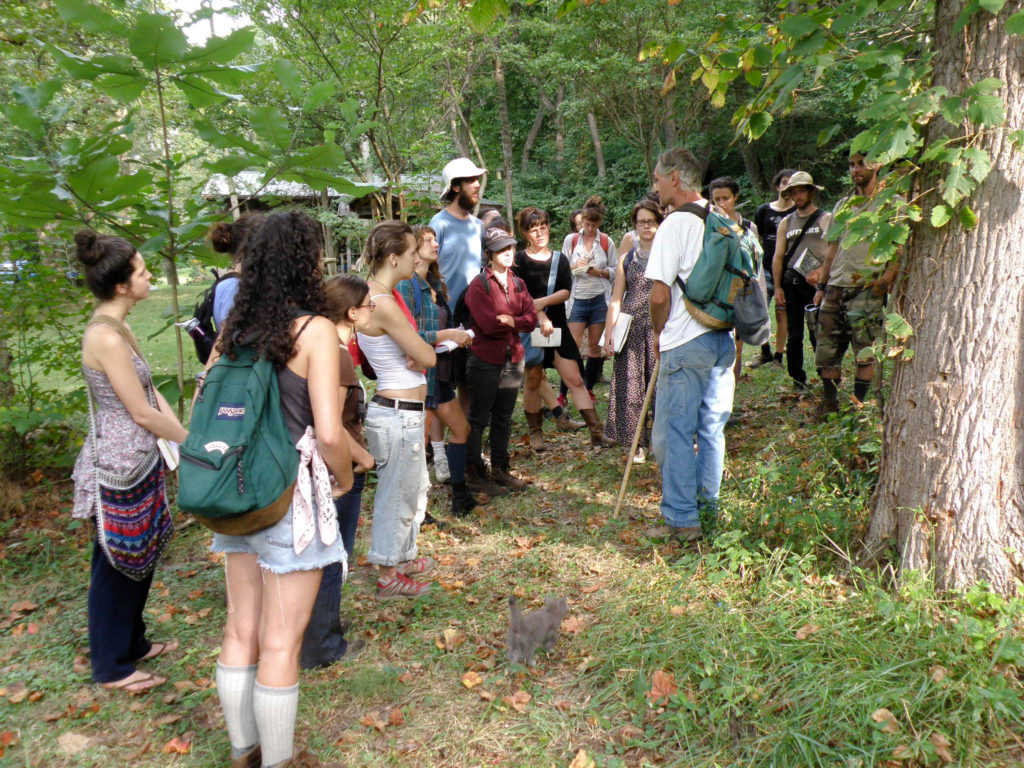 Guest Speakers Knowledgeable teachers will be offering their experience and expertise throughout the program. Teachers who have recently taught for this program include;  Corey-Pine Shane, Jen Stovall, Janet Kent, Amanda David, Jim Mcdonald, Lorna Mauney-Brodek, Cal Janae, Ly Rounds and Nakita Werier.
Herbal Formulation-Formulas are an integral part of an herbalist's treatment strategy. It involves knowledge of specific plants, an individual's constitution and health issues and how to prepare these in an individualized medicine to meet a patient's health needs. Throughout the school year, we will discuss various way of preparing formulas.
Herbal Pharmacy/Medicine MakingStudents will learn to gather and prepare their own herbal medicines including tinctures, oils, salves, and teas. This class will cover the continuum of herbal pharmacy, from gathering the proper plant through processing and refining it and learning how to best extract its properties.
Herbalist as Educator/Presentations Herbalists are teachers and often educate our patients, family, and community how to effectively use herbal medicines. In this class, students will be making presentations learning the skills necessary to be effective teachers.
Materia Medica An in-depth look at the plants themselves. We will discuss the habitats, botanical characteristics, chemistry, medicinal preparations, and uses of over 100 plants. There will be a focus on plants which students can identify and gather themselves.
Networking and Resources This ongoing topic will help students learn how and where to research information. We will discuss books, mentorships, networking, internet searches, conferences, and other ways to stay engaged in the lifelong endeavor of herbalism.
Plant Identification/Field Botany This is a major emphasis of the programs. Students will gain a thorough understanding of how to identify plants using field guides, botanical keys, and the tools of field botany. The goal of this class is for students to feel comfortable to accurately identify plants wherever they are.

Rainbow Gathering A unique aspect of this program is working at the first aid station at the Rainbow Gathering. This large free wilderness gathering has been a yearly event since 1972, drawing over 8,000 people for the week of July 1-7. It is held in a different region of the U.S. each year. The sheer volume of people along with its remote location presents a wide variety of first aid learning experiences. There is also a diversity of other health care practitioners to learn from. Daily plant walks led by 7Song and other folks will introduce you to the local flora. This is an excellent opportunity to put first aid skills into action and learn a region's flora.
Student Clinic This is a supervised clinic led by 7Song to help students learn the fine art and skill of constitutional assessment and treatment. We will see clients and learn the skills to make effective recommendations and formulations.
Wild Edibles Meeting and eating a variety of wild plants.
Wildcrafting is at the root of herbalism-traveling, identifying, gathering and learning about plants in their established ecosystems. We will cover harvesting techniques with a strong emphasis on the practicalities and ethical considerations of gathering wild plants.