Community Herbalism Intensive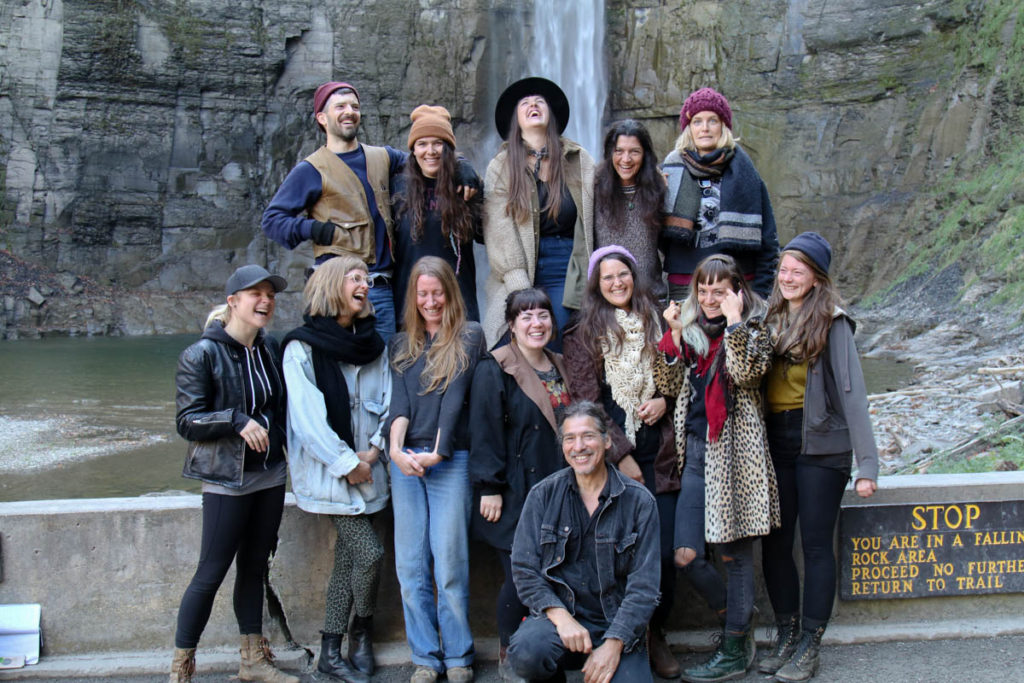 Community Herbalism Intensive 2021
Applications are now being accepted for the 2021 Community Herbalism Program.
As of December 4, 2020, there are 5 spaces open in this program.
Hello Prospective Students
I plan on running the Community Herbalism Intensive in-person in 2021. Before applying, please read through the below information.
I want to be very clear that it is not possible to know what next year will look like due to the pandemic. I will be limiting my program to 16 students. Even with this size, 6-foot social distancing is not possible in my classroom. I will not be doing this class online if I have to cancel it. If the class is canceled, I will refund all money, including the deposit, to enrolled students. But there is another risk, if you move to Ithaca and the class is canceled due to Covid, I cannot reimburse you for the expenses of moving here. Also, I will only refund all of the money if I cancel the class, so please be certain when you send in your deposit.
I want this to be as clear as possible so that you understand the risks. If it seems that Covid is still spreading, and that there is a more-than-happenstance chance of students catching and spreading it, I will cancel the program. I do not want to endanger you, or anyone you come into contact with.
I apologize for being so hard about this, but I do want to run the program in-person, but I have already been naive about when the pandemic and social distancing would end.
I am glad to speak with you about the program if you have any questions and concerns. But please don't expect me to be sure about any of this as I am in the same turbulent unknowing waters as everyone else.
I hope you are reasonably safe and healthy~7Song
This program is 3 days a week plus extended field trips in July, August, and September.
This program is designed to give students a comprehensive, hands-on practical study of herbal medicine. Classes are divided between classroom teaching and time outdoors identifying, gathering and preparing plants. The goal of the program is for students to have a well-rounded overview of herbalism, plants and a solid foundation of clinical herbalism.
Classes begin May 10 and ends November 10, 2021
Enrollment is limited to 16 students
For an interview, please call or write to set up a time to speak.
Weekly Schedule
Monday 2:00 to 8:00
Tuesday 10:30 to 4:30
Wednesday 2:00 to 8:00
Other classes include two eight-day field trips, the Rainbow Gathering, guest speakers and special classes (see individual class descriptions for details).
There is a 1 week class break in July (after the Rainbow Gathering) and another in September.
Tuition: $3,900

Deposit-A $500 non-refundable deposit is due upon acceptance (unless I cancel the class, see the message above). Please note, the remainder of the tuition is due April 30, 2021, unless prior arrangements have been made.
Please make out checks and money orders to 7Song and send to the below address:
7Song
P.O. Box 6626
Ithaca, NY 14851
Additional Costs: A detailed list of the items named below will be sent upon acceptance, or can be downloaded from the handouts section of this site.
Certificate: A handsome certificate is given to students who successfully finish the program. This means completing all assignments and missing no more than 7 classes throughout the program.
For a more in-depth look at some of the tools below, please see the Wildcrafting handout (under Other Subjects).
Tools: Wildcrafting implements such as pruners, digging fork, hori-hori, shovel, etc. I strongly suggest purchasing good quality tools. They will last longer and be easier on your body.
Books: Four books are required for the course. There is an endless variety of books, newsletters, magazines, herbal software programs, and other resources you may want to purchase. See Book List
Herbal Supplies: Alcohol, oil, bottles, and other expenses necessary for medicine making
Class Syllabus 2019
This is the syllabus from 2019, the 2021 syllabus will be similar and posted in the next few months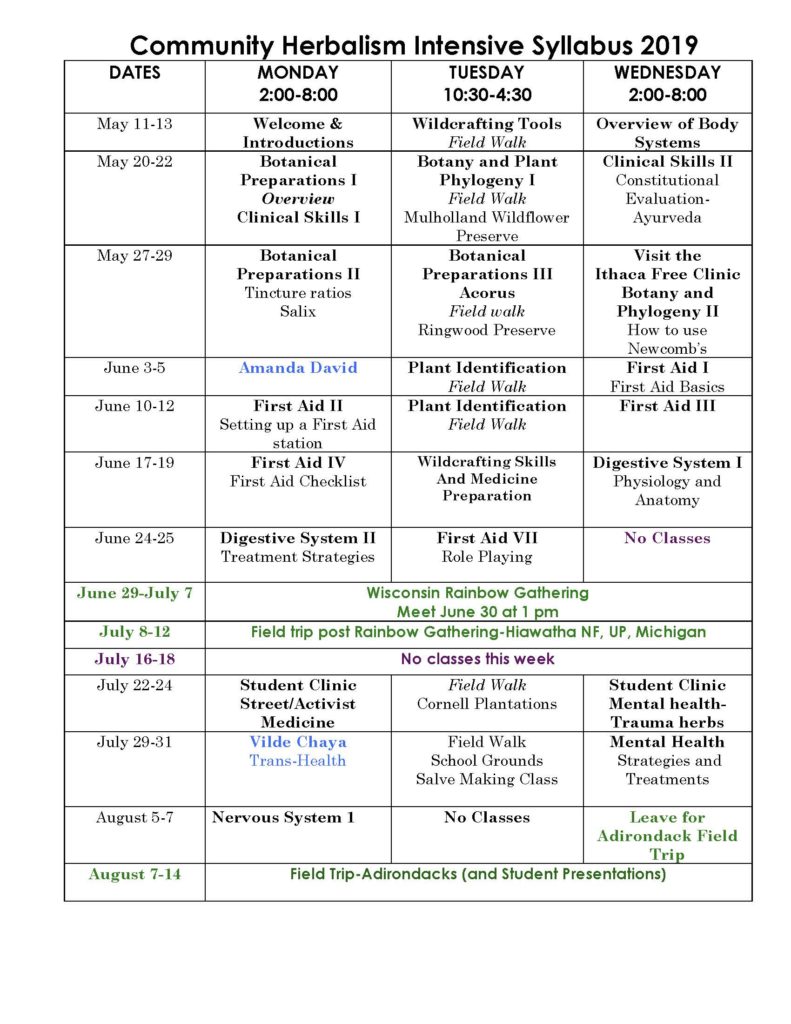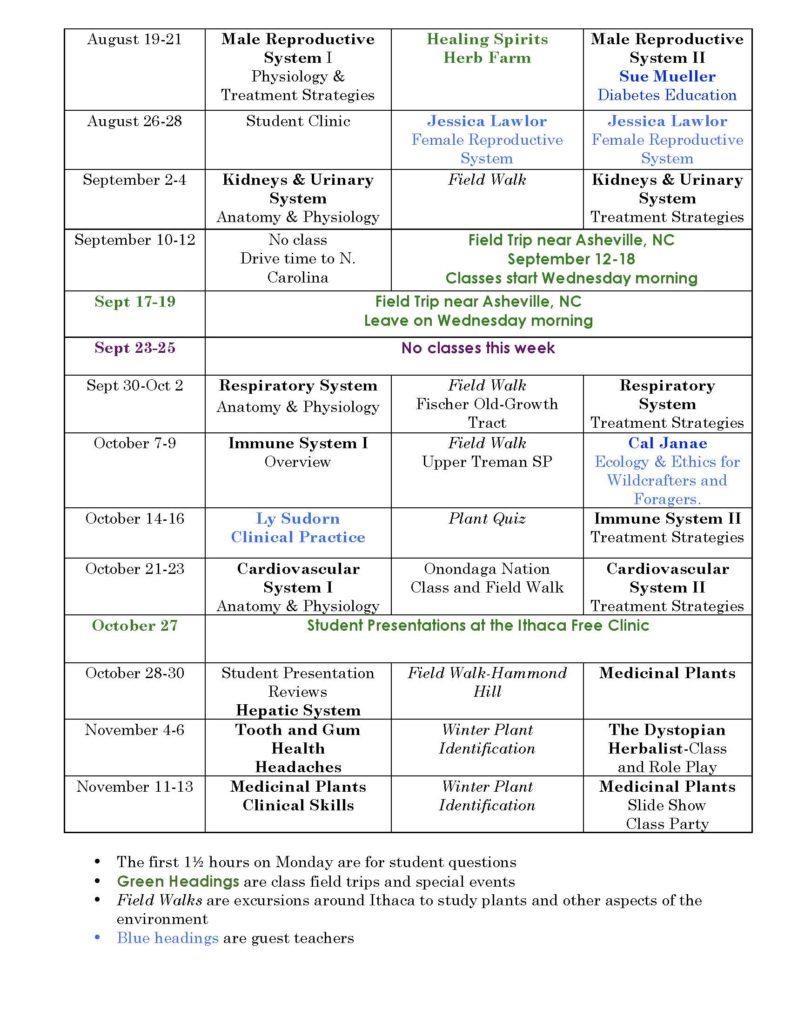 CHI Schedule Calendar
The below calendar is where individual classes and field trips are listed. They occasionally shift. If you are setting up your schedule to coincide, you may want to look again at the exact dates or ask me.