Weekend Herbalism Program 2022
This class will be online in 2022. Also, it will be in a very different format in 2023. 
Details will be posted here very soon. 
The weekend program is comprised of 6 weekends from May through October. Its format and classes are similar to those of the Community Herbalism Intensive, though condensed. For a description of individual classes look here. The class enrollment is limited to 40 students. The schedule is below. 
Please Note-All the field trips for this program are local. There are no extended camping field trips. 
What You Can Expect to Learn
This program is designed to give students a comprehensive, hands-on practical study of herbal medicine. Classes are divided between classroom teaching and time outdoors identifying, gathering, and preparing plants. The goal of the program is for students to have a well-rounded overview of herbalism, plants, and a solid foundation of clinical herbalism. 
---
Daily Schedule
Friday 6:00 PM to 9:00 PM
Saturday 10:00 AM to 6:00 PM
Sunday 10:00 AM to 4:30 PM
 2021 dates
Tuition $925
A $425 non-refundable deposit is due upon acceptance. The rest of the tuition is due by May 5.
**Due to the financial difficulties due to the COVID-19 virus, individual payment plans can be made for anyone going through financial hardship. I would still appreciate the initial deposit, but please contact me if you need to work out a tuition payment plan. 
Please make out check or money order to 7Song
Send to
7Song
P.O. Box 6626
Ithaca, NY 14851
Additional Costs: Other costs may include weekend housing, tools, books, alcohol (for medicine making), and herb supplies. A more complete list of expenses will be sent upon acceptance. There is a book list and an equipment list under the handout section.  Please note that while these lists are extensive only 4 books and approximately 4 tools are required.
---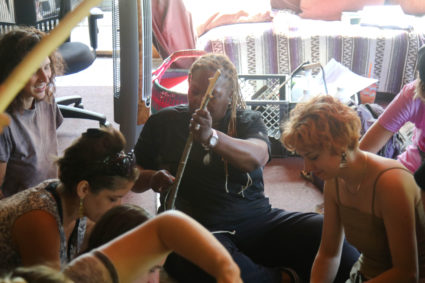 Certificate: A handsome certificate is given to students who successfully finish the program. This entails completing all assignments and missing no more than 1 weekend throughout the program.
Location: Classes will be held at the school about 8 miles from downtown Ithaca, NY. Directions will be sent upon acceptance.
Housing: Students find their own housing through Ithaca has many options including; bed and breakfasts, motels, camping, and other sleeping options. You will probably need to make reservations for some of these. Often out-of-town students stay with local program participants.
Applications and Questions: If you have any questions about this program, please call (between 9:00 -6:00 eastern time) or email me. The application can be submitted here.