Weekend Herbalism Program 2022
This class will be in-person in 2022.
This class will not be held in 2023.
The weekend program is comprised of 6 weekends from May through October. Its format and classes are similar to those of the Community Herbalism Intensive, though condensed. For a description of individual classes look here. The class enrollment is limited to 21 students. The schedule is below. 
What You Can Expect to Learn
This program is designed to give students a comprehensive, hands-on practical study of herbal medicine. Classes are divided between classroom teaching and time outdoors identifying, gathering, and preparing plants. The goal of the program is for students to have a well-rounded overview of herbalism, plants, and a solid foundation of clinical herbalism. 
About Covid
Please read this, as it is can be an important consideration before joining this in-person class.
It is now April 2022 and the Covid virus is still making the rounds, as it will for a while to come.  I am a pro-vaccine (and fully vaccinated) herbalist, though students are not required to be vaccinated to be in the program. I am asking students to potentially get tested before each month's class to keep everyone safe. Students may be required to wear masks in the classroom. If you cannot comply with this, I ask that you not join this class.
Please Note-All the field trips are to local Ithaca habitats. There are no extended field trips.  
---
[ezcol_1half]
Daily Schedule
Friday 6:00-9:00 pm
Saturday 10:00 AM to 6:00 PM
Sunday 10:00 AM to 4:30 PM
 The rest of the 2022 dates will be scheduled soon 
May 20-22
June 17-19
July 22-24
August 19-21
September 23-25
October 14-16
Weekend Herbal Progam Syllabus 2022-there may be some minor changes in the future, but the dates and the overall content will remain the same. 
[/ezcol_1half] [ezcol_1half_end]
Tuition $975
A $500 non-refundable deposit is due upon acceptance. The rest of the tuition is due by April 29, 2022.
Please make out a check or money order to 7Song
Send to
7Song
P.O. Box 6626
Ithaca, NY 14851
Additional Costs: Other costs may include weekend housing, tools, books, alcohol (for medicine making), and herb supplies. A more complete list of expenses will be sent upon acceptance. There is a book list and an equipment list under the handout section.  Please note that while these lists are extensive only 4 books and approximately 4 tools are required.
[/ezcol_1half_end]
---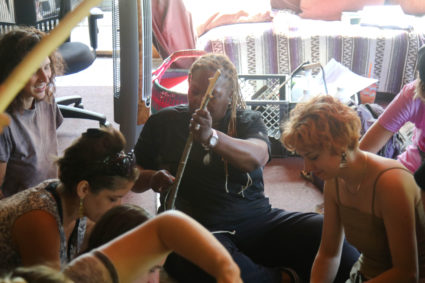 Certificate: A handsome certificate is given to students who successfully finish the program. This entails completing all assignments and missing no more than 1 weekend throughout the program.
Location: Classes will be held at the school about 8 miles from downtown Ithaca, NY. Directions will be sent upon acceptance.
Housing: Students find their own housing through Ithaca has many options including; bed and breakfasts, motels, camping, and other sleeping options. You will probably need to make reservations for some of these. Often out-of-town students stay with local program participants.
Applications and Questions: If you have any questions about this program, please call (between 9:00 -6:00 eastern time) or email me. The application can be submitted here.