Weekend Herbalism Program
About COVID-19, the class will still be held with some alterations. Please note that there is no way to know how this virus situation will change, and I will be writing to prospective students as any changes occur. The first class will be online in May, see the schedule below. The rest of the classes will all hopefully be in person. There is also a November weekend added to offset any other changes (and also it seems like a good year to add an extra class for the difficulties people are facing).
The weekend program is comprised of 6 weekends from May through October. Its format and classes are similar to those of the Community Herbalism Intensive, though condensed. For a description of individual classes look here. The class enrollment is limited to 23 students.
Please Note-All the field trips for this program are local. There are no extended field trips. 
---
Daily Schedule
Friday 6:00 PM to 9:00 PM
Saturday 10:00 AM to 6:00 PM
Sunday 10:00 AM to 4:30 PM
Dates for 2020
May 16-17-Note, this class will be online for both days from 10-4
June 19-21
July 17-19
August 21-23
September 25-27
October 16-18
November 6-8



Weekend Herbalism Syllabus 2020 revised-this is the link to the revised WHP 2020 syllabus
Tuition $925
A $425 nonrefundable deposit is due upon acceptance. The rest of the tuition is due by May 5.
**Due to the financial difficulties due to the COVID-19 virus, individual payment plans can be made for anyone going through financial hardship. I would still appreciate the initial deposit, but please contact me if you need to work out a tuition payment plan. 
Please make out check or money order to 7Song
Send to
7Song
P.O. Box 6626
Ithaca, NY 14851
Additional Costs: Other costs may include weekend housing, tools, books, alcohol (for medicine making), and herb supplies. A more complete list of expenses will be sent upon acceptance. There is a book list and an equipment list under the handout section.  Please note that while these lists are extensive only 4 books and approximately 4 tools are required.
---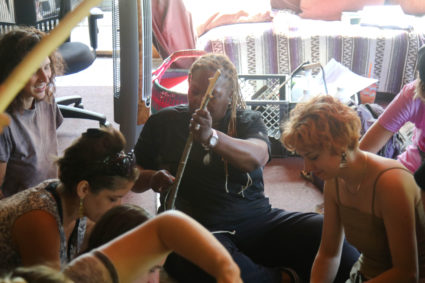 Certificate: A handsome certificate is given to students who successfully finish the program. This entails completing all assignments and missing no more than 1 weekend throughout the program.
Location: Classes will be held at the school about 8 miles from downtown Ithaca, NY. Directions will be sent upon acceptance.
Housing: Students find their own housing through Ithaca has many options including; bed and breakfasts, motels, camping and other sleeping options. You will probably need to make reservations for some of these. Often out-of-town students stay with local program participants.
Applications and Questions: If you have any questions about this program, please call (between 9:00 -6:00 eastern time) or email me. The application can be submitted here.